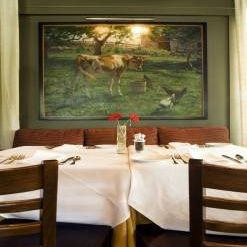 $$

$$

Regional American (Southern)
Palmetto
Located in Palmetto, Georgia, The Farmhouse serves regional fare made with fresh, local ingredients in a farm-to-table, cozy setting. The menu rotates seasonally to accommodate the variation in seasonal produce and meat. The Farmhouse is able to cater events such as weddings, private parties,...
The Hil in Palmetto, Georgia, is a refined neighborhood restaurant that serves farm-fresh cuisine in an elegant atmosphere. The meals at The Hil are crafted from local organic produce, always chosen when they are at their peak, so the menu changes often depending upon what ingredients are...