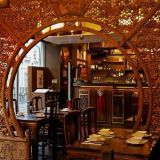 Private Dining
Barshu
Chinese (Sichuan), Chinese, Asian
£££
Maximum Capacity: 50
Chinese (Sichuan), Chinese, Asian
£££
Maximum Capacity: 50
Barshu, situated in the heart of Soho, serves food from Sichuan province in southwest China, characterized by fiery spiciness, with liberal use of chillies and Sichuan pepper. Sichuanese chefs are legendary for their ability to combine many different tastes into exquisite complex flavours. And the use of chillies is so inventive that their taste never palls. At Barshu we want to bring you the best of the authentic flavours of Sichuan, so look out for the seductive 'fish-fragrant' combination of pickled chillies, ginger, garlic and spring onion, the addictive fieriness of 'numbing-and-hot' flavoured dishes, and the refreshing tones of a 'ginger-juice' sauce. Barshu is capable to offer the luxury of complete privacy dining. Our space that sets you and your guests apart from fellow diners. Whether it is a meeting, birthday, Christmas party, engagement party or special occasion, our Private Dining offers the most authentic and mouth-watering cuisine to give diners a memorable experience.
View sample menu
Private Dining Options
---
Jade Room
0 Standing | 14 Seated
Located on 2nd floor of the restaurant, Jade Room is an ideal venue for intimate meal with friendly service. It could accommodate up to 14 guests seated, offers elegant dining atmosphere in it's simplicity. There is no hire change for this private room dining, but a minimum spend is required based on the day and time you wish to book.
---
Ruby Room
0 Standing | 12 Seated
Identical to Jade Room, slightly smaller in size. This beautifully designed private room could seat up to 12 guests. Both private rooms are next to each other and could turn into one big private dining area with two big tables to accommodate up to 26 guests seated, ideal setting for a corporate event, engagement party or Christmas event. There is no hire fee for private room dining, but a minimum spend is required based on the day and time you wish to book.
---
Emerald Room
0 Standing | 8 Seated
This room located on the ground floor, slightly away from the crowd, with soft lighting provides a cosy and intimate dining environment. It is a perfect place for business meeting or family gathering. There is no hire fee, but a minimum spend is required based on the day and time you wish to book.
---
Pearl Room
0 Standing | 50 Seated
This spacious area located on 1st floor could transform into private dining area, ideal for events like engagement party, business gathering, product launch of up to 50 guests. There are glass windows across the 1st floor, giving excellent view of the hustle and bustle of Soho. The minimum spending for the exclusive hire of the whole 1st floor is £2800. Complete with your own dedicated bar, it's the hottest place for a party in Soho.
Contact the restaurant
Please fill in your information below and Chew will contact you as soon as possible to book your event. If you'd prefer to talk now, please call us at 020 7287 8822
By clicking "Submit Request" you agree to the terms and conditions of the Privacy Policy and OpenTable Terms of Use